HAPPY FALL, Y'ALL!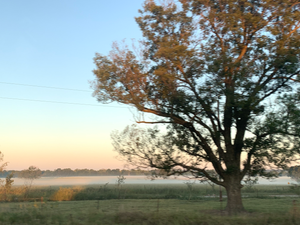 The weather in Kansas City has been stunning lately and a great inspiration for writing, and a-writing I have been! I'll tell ya about my new writing goals shortly, but first I want to get straight to a few really exciting events coming up. A full October calendar will be at the end of this email. 
First and quickly approaching on Wednesday, October 5th is a solo gig in KC at Rochester Brewing & Roasting. I'll be sharing at least five brand new songs that I've written in the last few weeks. 6-8pm. Free and all ages. Tips appreciated. 
I'll be playing one of my very favorite concert series on Saturday, October 15th. Concerts in the Courthouse in Warrensburg, MO is an acoustic, unamplified performance space in an intimate historic venue lit with only candles and mirrors. (Talk about October vibes!) I'll be solo. There is no fee for the show. Free will donations accepted on behalf of the Johnson County Historical Society. Doors open at 6. Seating is limited and offered on a first come, first served basis. Arrive early for the best seat. All ages. 
THE COUNTRY DUO IS MAKING A NEW RECORD! Marco Pascolini and I will be working with former Sun Studio Head Engineer, Curry Weber. We've worked with Curry four times: twice at Sun (our first 45 vinyl and our EP soundtrack to the Sun Sessions television show), once in Louisiana (unreleased recordings), and once again in Memphis where we recorded live and filmed a video in Memphis's oldest bar, Earnestine & Hazel's, for the ol' classic country tune "Louise." (Watch the video.) This time, we'll stop in Memphis to play a gig on Sunday, October 16th at South Main Sounds with our dear friend Kelly Hunt. Then we're off to Gulf Shores, Alabama to meet up with Curry and record on location both in an old lagoon house as well as in a nearby Civil War battery. What? Go into a historic war zone and bust up those vibes with music? Yes, please!  We'll spend about four days recording and mixing before we head home. We have a virtual tip jar on our website if you'd like to support our journey. You can also purchase our digital music on our website, BandCamp or if you'd like to purchase one of the limited edition 45 records, please send me a private message and I can arrange that (I don't have it on any of the online platforms yet). 
A week after The Country Duo returns from Alabama, we'll be playing another very special and rare concert. The newly renovated and reopened Kansas City Museum is hosting "house concerts'' in their incredible room filled with marble and beautiful acoustics! Marco will be setting down his electric guitars and pedal steel and picking up a dobro and acoustic guitar as we play unamplified in this natural reverberating room. It takes place on Saturday afternoon, October 29th from 2-3pm. Tickets are on sale now and are very limited. Get 'em (here) while we got 'em! 
Now, about that writing I mentioned. I joined the Nashville Songwriters Association (NSAI) and I recently had a meeting recently with Nashville songwriter Jerry Vandiver (Oak Ridge Boys, Tim McGraw) who has been active and associated with the organization for many years. He's also an old family friend of my Uncle Terry's, which is how we met the first time I ever went to Nashville in 2005. Jerry gave me some great advice in that meeting which is to claim and pronounce that I AM A SONGWRITER! This should be my first answer when anyone asks me "What do you do?" No, I'm not a part-time employee of this or that, or a once-upon-a-time bookkeeper, blah blah blah .... None of that. I am a songwriter. To dedicate myself to my craft, I have a goal of writing at least two songs a week for one year. I began the challenge the week of Winfield's Walnut Valley Festival. Four weeks in, I am a bit behind, but I do have five new songs because of my effort! I'll be sharing the new lil' babies on my Patreon page. You can sign up for as little as $3/month and the proceeds support my recording journey here in Kansas City. (Like the listener-supported "She Said Goodbye" single released this summer.) Maybe some of these songs I'll record professionally, maybe I'll pitch some of them to Nashville. Others may never see the light of day beyond my writing room and Patreon, but I will put in good faith effort to practice this skill that I love so much because I AM A SONGWRITER! (By the way, Winfield was a blast this year. One of my new songs was inspired by my camp mate, the Hootenannie herself, Cynthia "Blondie" McKechnie.) 
As always, thanks for reading, thanks for listening, thanks for supporting us music makin', songwritin' folks. 
CHEERS! 
Kasey Dawn 
UPCOMING SHOWS: (See the full calendar with details HERE.) 
Wed. 10/05 - Solo at Rochester Brewing and Roasting, KCMO - Free. All ages. 6-8pm 
Tues. 10/11 - The Naughty Pines at The Ship (Every 2nd Tuesday), KCMO - Free. Two step lessons during our set break! 7-10pm 
Sat. 10/15 - Solo at Concerts in the Historic Courthouse - Warrensburg, MO - Free. All ages. Doors at 6pm. 
Sun. 10/16 - The Country Duo with Kelly Hunt at South Main Sounds, Memphis, TN - 5:30pm - $10 suggested donation. 
October 17-21 - The Country Duo makes a record in Gulf Shores, Alabama! Donate to the cause HERE. 
Wed. 10/26 - Private daytime gig - Contact us to play your event! 
Wed. 10/26 - The Country Duo at Chartreuse Saloon (Every 4th Wednesday), KCMO - Free. 21+, 8-10pm. 
Sat. 10/29 - The Country Duo at The Kansas City Museum, KCMO. All ages. 2-3pm. Advance tickets on sale now. Seating is limited. 
And a peak into November will find The Country Duo at Whiskey Snug in Weston, Missouri on Friday, 11/4. 
Hope to see ya around!